When choosing a material for a jewelry drawstring bag, there are several factors to consider, including aesthetics, durability, cost, and functionality, as well as how best to protect the jewelry from wear and tear. The following are several common materials commonly used in jewelry drawstring bags and their characteristics.
1. Velvet Jewelry Drawstring Bag: Velvet is a popular choice for jewelry bags because of its soft and luxurious texture. It has a classic and elegant look, perfect for storing delicate and valuable jewelry. However, velvet is fragile and tends to fray over time.
2. Silk Jewelry Drawstring Bag: Silk is another luxury option that exudes elegance. It's smooth, lightweight, and has a natural shine. Silk drawstring bags are often chosen for higher-end jewelry items. Like velvet, silk is fragile and needs to be handled with care.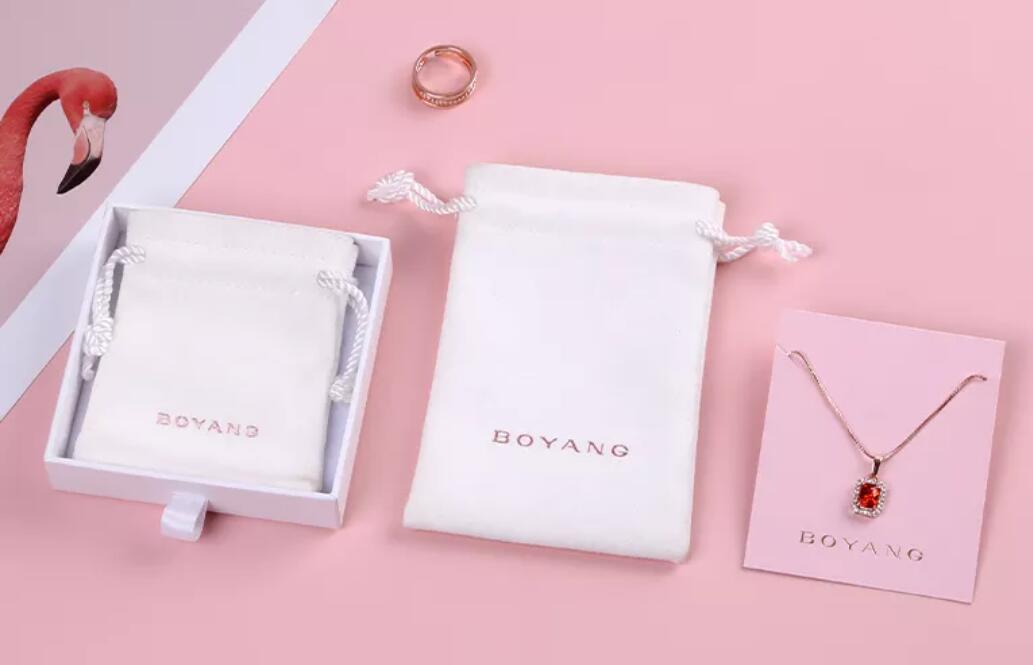 3. Satin Jewelry Drawstring Bags: Satin is a lustrous fabric that has a similar aesthetic to silk, but is usually less expensive. It has a sophisticated look and is commonly used in various types of jewelry packaging.
4. Cotton jewelry drawstring bags: Cotton drawstring bags are a more practical and durable option. They come in a variety of thicknesses and qualities, from lightweight muslin to heavier canvas. Cotton bags are often used to store everyday jewelry.
5. Organza Jewelry Drawstring Bag: Organza is a sheer and lightweight fabric that adds a sophisticated touch to your jewelry packaging. It is often used for smaller jewelry or as an outer layer for other drawstring bags.
6. Microfiber: Microfiber drawstring bags are a functional choice. They are soft, durable, and great for protecting jewelry from scratches. Microfiber bags are often used for travel or to store jewelry that needs extra protection.
7. Faux leather or suede: Faux leather or suede drawstring bags can offer a more rustic or modern look. They are often chosen for a different style than traditional fabric choices.
The best material for a jewelry drawstring bag depends on your preferences, the type of jewelry you want to store, and the overall aesthetic you want to achieve. Consider factors such as the value of the jewelry, the likelihood of wear and tear, and the intended use of the bag (e.g. storage, gifting, travel). It's also important to balance beauty with functionality to ensure the bag effectively protects and displays your jewelry.
We are a jewelry drawstring bag manufacturer, If you need a custom jewelry drawstring bag, welcome to contact us.